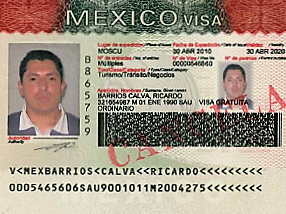 PERMANENT MEXICO RESIDENT VISA
For instance, if you are a U.S. Citizen relocating to Mexico. You can apply for this visa. In fact, Permanent Mexico Visa allows you to live in Mexico, indefinitely. Furthermore, it is a lifetime and multiple entry visa. In this case, multiple entry means that you are not required to live in Mexico all the time. But In order to maintain your Permanent Mexico Resident Visa. You must keep a Mexico address.
How do I qualify for Permanent Mexico Visa?
To qualify for this visa you just need to prove that you have $3,729.00, US, in retirement income; social security or pension. Perhaps a combination of both to meet the requirement. Another option is $149,158.00, US, in savings or investments like 401K, IRA among others.
Steps for permanent Mexico Resident Visa
Firstly, you apply for this Visa in the Mexican Consulate in the U.S. Secondly, the Mexican consulate grants you a Permanent Mexico Visa for six months like the sample above. And is affixed to your passport. Thirdly, and most importantly, you must change the Permanent Mexico Visa. For the Permanent Mexico Resident Card within thirty days after the Permanent Mexico Visa is validated. And stamped at the Mexico border or airport.
Set foot in Mexico until the visa is approved
You can move to Mexico until the visa is approved at the Mexican Consulate in the U.S.  As a matter of fact, if the visa is approved. It will be valid up to 180 days. Then you have all this time to make your move to Mexico. Yes, you probably wonder why only 180 days. I thought it was permanent. Do not worry, this means that you have 180 days to exchange the visa for the actual permanent resident card.
Canje Procedure
When you arrive to Mexico. You must go to the nearest INM Immigration office close to your Mexico residency address. And do the CANJE process. What does Canje mean? it means exchange. In other words you are exchanging your visa for the actual permanent resident card. How does this work? do I just give my visa and then INM Immigration gives me the permanent resident card. Well, yes but it is not that sample. In fact it is a process that can be frustrating. If you do not know how to fill out the main application. And assemble all the documents required. Jorge can help you with the entire process
Visa Categories:
Permanent Mexico Visa through retirement or pension income. In other words, If you are a retiree or pensioner. And can prove a monthly net income of $3,729.00, U.S. You can apply for this visa. Furthermore, the Mexican Consulate requires six consecutive bank statements to prove income, back from the day you apply. In fact you can also apply through your investments income if you can prove $149,158.00, US, per month for twelve consecutive months prior from the day that you apply.
Permanent Mexico Visa through Mexican Spouse or Permanent Resident Card Holder Under this category the visa will be temporary for one year. If you apply in a Mexican Consulate in the U.S. But if you apply directly in Mexico at the INM Mexico Immigration office. You get Temporary Resident CARD for two years.
PR Mexico Visa through Mexico born Children under this category you will get permanent residency card lifetime. If you have Mexico born children you can apply through them regardless of their age.
PERMANENT MEXICO VISA REQUIREMENTS:
PASSPORT VALID FOR MORE THAN SIX MONTHS
PROOF OF INCOME
PASSPORT PHOTO
MEXICO VISA APPLICATION
VISA PETITION LETTER
MEXICO VISA APPOINTMENT
FREQUENTLY ASKED QUESTIONS:
What is the cost for Permanent Mexico Resident Visa? $44.00, US
Where do I apply for Permanent Mexico Resident Visa? In the Mexican Consulates or Embassies of your country of origin.
How long is the estimated time of approval for Permanent Mexico Resident Visa in the Mexican consulate? 1 to 10 business days
How long is the duration of the Permanent Mexico Resident visa? Six months to exchange it for Permanent Mexico Resident Card.
How long is the Permanent Mexico Resident Card? It is a lifetime
How much is the Permanent Mexico Resident Card? About $280.00, US
What is the difference between a PR Mexico Visa and PR Mexico Card? Is the same but requires two steps to acquire Permanent Resident Status
By Jorge Gonzalez Mexico Visa Specialist Ph: 619-512-7537. Email [email protected]